Welcome to the ADA-compliant version of
AZFDigitalMarketing.com.
This version is intended to assist people with challenges utilizing typical websites. It is our belief that everyone is valuable and deserves equal access. If we can help our fellow human beings by making it bit easier to access this information, we feel honored. Our hope is that this text version will be helpful to people accessing our site with page readers and make it easier to get the information they need. The page begins with a header section. On the left side of the header is our logo for AZF Digital Marketing. In the middle of the header are navigational links for Home, About, Strategy, Contact, Blogs, and FAQ or frequently asked questions. On the right side of the header is a yellow button offering to schedule a free review of your marketing plan. The next section is called the hero section. It is the "above the fold" real estate. Text says, "We fill your sales funnel, now, isn't that what you really want?" There is a looped video that asks what keeps you up at night. Need more leads? Need more sales? AZF Digital Marketing can help. Digital Marketing should make more money than it costs. A splash screen at the end of the video has the AZF Digital Marketing logo and text that says, Let's review your marketing lan. Free review. Save money. Get results. 480-818-6211, contactus@arizonafilmworks.com. The next section is a free offer to do a review of your marketing plan. Buy me a cup of coffee and I will tell you what you should be doing in your marketing. We can review your current marketing plan. I can show you the power of retargeting and Geofencing. Over-the-Top Ads are the hot, new way to advertise and they target with amazing precision. Stop wasting money on marketing that doesn't work and start filling your sales funnel with qualified leads. For the price of a cup of coffee, I can show you how to stuff your sales funnel with qualified leads. Schedule your free review today! If you think digital marketing is expensive,
try having your customers go to your competitors. Your Digital Marketing Plan Needs: A Killer Website on the First Page of Google There is an old joke among web programmers. The best place to hide a dead body is on the second page of Google because no one looks there. We can get you to the fist page of Google and get found. We know SEO. It takes a lot of effort and usually some time but we have done it with our site and many more. If we are serious about getting to the first page of Google, we have to build sites that please Google. Who has the cleanest, most minimal site in the world? Google. Do you think Google favors clean, minimalistic sites or crazy sites full of extraneous code to move pictures and fly-in text? Geofencing If you walk into a Kay Jewelers, I can put ads on your phone for Jared Jewelers. If you walk into one law office, I can put ads in front of you for another law office. Targeting your competition is a great way to give prospects a choice. A famous example is Burger King. Burger King used Geofencing to send a coupon to the phones of people who were within 600 feet of a McDonald's. The coupon offered a Whopper for 1 cent. Uber used Geofencing to send notices to phones showing up at the LAX airport. The notice said, "Would you like us to pick you up at the LAX airport? We have three cars close by." One click and the person was on the Uber app making arrangements. Over-the-Top (OTT) Ads The hottest, sexiest new advertising is OTT ads. These are either pre-roll or streaming ads placed in all kinds of programming from movies and TV shows on Hulu, Sling, Amazon Prime, etc. to pre-roll ads on YouTube and other ad platforms. Think of OTT ads as the new TV commercials but with two incredible differences: You cannot fast-forward through OTT ads and instead of targeting whoever is watching Game of Thrones at the moment, you target whoever did an Internet search for jewelry stores near me or lawyers near me or plumbers near me. Retargeting We can "retarget" people who visit your website and make sure they continue to see ads for your business. It often takes multiple visits to a website before a visitor makes a buy-decision. The industry mantra is that a potential customer usually needs to see your ad in three different places before they recognize and trust your business. Imagine someone visiting your website on Monday and on Monday night, Tuesday, Wednesday and beyond, that person sees ads for your business in several other places on the Internet. This gives you top-of-mind branding recognition which is a major factor in creating a buy-decision. YouTube Channel YouTube is the second largest search engine in the world. Why are so many people ignoring it? People tell me, "I don't have time to do a video every week." I tell them, "you don't have time not to." One way we help is by offering a subscription service. We come in one day per month and film you for a few hours and then create four beautiful, awesome videos for you to put on your YouTube channel, Facebook page, Instagram, Twitter, Pinterest and LinkedIn. Seriously, for that kind of exposure can you afford NOT to do videos? We also offer to set up a studio in your home or business and you can make all the videos you want. We show you how. You send us the raw files and we edit them into beautiful videos for you. You can also use your new film studio as your Zoom studio. You keep the camera, lights, microphones, etc. Email Our goal is to identify the people most interested in our product or service. Why waste money bombarding uninterested people with our ads? Offering a white paper, guide, or eBook discussing a topic directly associated with your business is the best way to develop a list of qualified prospects. These "giveaways" are in exchange for the recipient's email address. NOTE: We hate spam. The only thing I hate worse than spam is "Angela" calling about my car's extended warranty. We will not help you do spam or robo calls. The best way to develop a legitimate email list is by offering something of value in exchange for their email address. Give something to build a relationship. This identifies the person as a qualified prospect and you as a legitimate advertiser. Google PPC, LinkedIn, Facebook Ads We strongly recommend PPC campaigns. Something like 85% of buyers use the Internet to check prices, find vendors, get reviews, etc. PPC can be expensive in competitive markets but the rewards far exceed the cost. Several studies show that businesses make $2 for every $1 they spend on AdWords. When you want Google to love your website and bless it with high rank, do you think they favor sites that are paying them for PPC campaigns? We recommend LinkedIn ads for B2B businesses and Facebook Ads for B2C businesses. We can set up campaigns that specifically target many, many parameters. This saves money. AZF Voted Best Digital Marketing Firm Digital.com and UpCity.com voted Arizona Filmworks the best web design firm and video production firm in Phoenix, Arizona. Our customers also think we are the best digital marketing firm in Phoenix. There is a story about how we began as a video production company and grew into a full-service marketing firm. Arizona Filmworks is a proud member of the Scottsdale Area Chamber of Commerce and the Arizona Production Association. The next section is the footer which is consistent across all pages. The footer contains the same navigation links as the header plus some contact information. Let's Talk, our email address is: contactus@arizonafilmworks.com. Our phone number is: 480.818.6211 The About page has the following information. About AZF Digital Marketing Arizona Filmworks began in 2011 as a video production company. We did awesome videos and TV commercials. TV commercials need air time. Our clients wanted us to do the media buys for their TV commercials. This was before OTT ads. It was a dark time when you targeted a demographic by buying air time on the right shows. This meant we had to know the client's target market, message and demographic. We also had to know what demographic was watching Wheel of Fortune and what demographic was watching the History Channel. All that changed when people "cut the cord" and began watching shows on-demand and over the Internet. Dozens of content providers began competing for viewers by subscription. Amazon Prime, Hulu, Sling, Discovery+ and dozens of other companies offered content. They also offered air time for TV commercials. There were two huge differences between old TV commercials and TV commercials on OTT TV. You cannot fast-forward through OTT ads. You no longer have to target demographics by show. Now, when someone signs onto a content provider, the content provider knows 1,500 things about that viewer. They know age, income, gender, interests, and where that person has been in the last 30 days. In 2001, you bought air time on Wheel of Fortune and hoped the right demographic saw an ad for Geritol. Today, you may be watching Wheel of Fortune in your house and your neighbor may be watching the same show. You might see an ad for Jared Jewlers and your neighbor might see an ad for Dominoes Pizza. The difference is, you walked into a Kay Jewelers yesterday and your neighbor ordered a Pizza Hut pizza delivery. Media buys are significantly more complex today. We have to be experts in digital marketing. Arizona Filmworks was forced to grow and evolve in another way. The web videos we created had to be embeded in websites. Every client asked the same initial question, "Is it better to serve videos from our own website or embed them from YouTube?" They also asked about Vimeo. We began giving our clients the code to embed videos and also created YouTube channels. Eventually, we took over programming the whole website. We created video ads for Social Media and got heavily involved in pay-per-click campaigns. Again, we had to know our client's target market, message and demographics. These are core marketing elements. We grew to deliver more and more core marketing services to our clients. One day, we woke to find we had become the best digital marketing firm in Phoenix, Arizona. We now have a team of highly trained, experienced, and devestatingly effective digital marketing engineers who know how to create the best campaigns and marketing plans possible. The Blogs page has the following information: Blogs About Digital Marketing Blog coming soon! Blog coming soon! The Offers page has the following information: Best Digital Marketing Offer Ever! Here is the offer: If you are in metro Phoenix, buy me a cup of coffee and I will tell you what you should be doing in your marketing. Outside of Phoenix, let's set up a Zoom call. We can review your current marketing plan. I want to know what you have tried and what is working now. How is your sales funnel? Do you need qualified leads? Would you like to grow? I can show you some of the amazing new technologies available to target the right prospects. We can talk about retargeting and Geofencing. Over-the-Top Ads are the hot, new way to advertise and they target with amazing precision. We can target your competition. I can tell who has walked into a Kay Jewelry store in the last five days and put ads for Jared Jewelers in front of them on their TV, their computer, and their phone. If someone visits your website, I can put ads for your business in front of them to remind them and increase your brand awareness. Stop wasting money on marketing that doesn't work and start filling your sales funnel with qualified leads. For the price of a cup of coffee, I can show you how to stuff your sales funnel and increase your revenue. Schedule your free review today! The Contact page has the following information: Contact Us for Digital Marketing We love to talk to people about their marketing. Our sales approach is low-key. We have a free conversation about what you are currently doing to market and what you could be doing. If there are services you cannot do or it makes sense to have someone else do, we are happy to assist. There is also a form if you want to submit a question or comment but we recommand you just call us at 480-818-6211. The FAQ page has the following information: FAQs About Digital Marketing What Can You Really Do for Us? We have some of the best digital marketers in the world putting together digital marketing campaigns based on experience and results. We can show you how to utilize the latest technology to target the best, qualified prospects based on extensive information about the potential customer. We can give you a web page and landing pages that convert visitors to buyers. We can get that website to the first page of Google. We can develop static ads and display ads and distribute them to the people most likely to buy. We can create awesome TV commercials and post them all over Social Media. We can manage your marketing and advertising as your marketing department. Our goal is to make you more money than we cost. We do that by having the best messaging, the best branding, the best media, the best education, and the most advanced targeting on the planet. How Much Does it Cost? I want to answer this question but it is not an easy question to answer accurately. It depends on so many factors. Do you sell a product or service? Do you sell to consumers or other businesses? Are you a one-office dentist and you only want to reach people within 20 miles of your office or are you a law firm with 23 offices all over the state? Is your website a simple, display site or is it a large eCommerce site with 500 products in your catalogue? Do you want to limit your advertising to static banner ads or do you want video ads? Here is the fundamental philosophical point. Are you willing to spend enough to make your marketing effective and successful? "Successful" in our dictionary means we generate enough increase in revenue to pay for the marketing. In many cases, we say the minimum marketing spend needs to be $2,000 per month for three months. Many people in this business say you have to spend $3,000 per month for three months. I like to explain it this way. Imagine your overhead without marketing/advertising is $50,000 per month. You struggle to make that gross revenue each month. Now, we spend $3,000 per month on marketing and advertising. At the end of three months, you are now making $60,000 per month gross revenue. You are spending $3,000 per month more but bringing in $10,000 per month more for a net revenue gain of $7,000 per month. If I said, "Write a check for $3,000 and next month I will give you $7,000" you would say that is a good deal and do it all day long. Who wouldn't pay $3,000 to get $7,000? Obviously, there are no guarantees. Well, there is one guarantee. If you spend too little, you are guaranteed to fail. It would be like me saying, "Write a check for $1,200" and next month you only get $800. That scenario would feel like a fail. Not really because you would still get $1,200 of branding, top-of-mind awarness, etc. But we like to define success as generating more revenue than we cost. There is a picture of a chart with Revenue on the left side and cost across the bottom. A red line curves from horizontal to vertical as you move left to right. This chart is like one of those investment commercials. Results vary. Your returns may not match this chart. The point of the chart is to illustrate the general principle that you have to spend enough to see results. For example, if this chart were real and you spent $1,000 in advertising, you could expect $800 in increased Revenue. It is not until you spend $4,000 per month in advertising that you realize $4,000 in increased revenue. Spend $5,000 per month in advertising and the chart shows about $6,800 increased revenue. Again, who wouldn't write a check for $5,000 to get $6,800? $6,000 on the chart returns about $10,000 in increased revenue. Our job is to get you gains in revenue with as little cost as possible. What is Geofencing? It should not be news to anyone that we are all tracked by our smartphones. What you are about to read will make is seem real. This is the stuff of nightmares when it comes to privacy and tracking. Everywhere you go with your smartphone is recorded. Geofencing is defining a geographic area - like a store, law office, car dealership, booth in a convention center, etc. - and then digitally marking everyone who walks into that area. Marketers use where you have been in the last 30 days as buy indicators. We assume people who walk into a car dealer's showroom (not the service area) either work there or are shopping for a car. We can eliminate the people there for eight hours because they are most likely employees. Now, we have a list of people who are probably shopping for a car. Those people get static banner ads, display ads, animated ads or video ads to be educated on why they should visit another showroom. What is Retargeting? Only 4% of people who visit websites are ready to buy and complete the purchase in one visit. Most people are researching. They want to look at reviews, compare pricing, see the offeres, see if there is free shipping, etc. We can put ads for your website all over the Internet and on streaming TV to remind those people who visited your website, to come back and visit again. This is called retargeting your visitors and it drastically improves your conversion rates. Think about it. Let's say you have 1,000 visitors a month to your website. Given average statistics, you get 40 sales from the 4% who buy on the first visit. All of a sudden, the most likely buyers on the planet are the 960 people who visited but did not buy. Certainly, some of them went to a competitor and bought but most of them did not. This group has already expressed an interest in your product or service and are more likely buyers than the general population. Of course we want to put ads in front of these people. Retargeting works by putting a cookie-like pixel on your website that can be tracked by our marketing networks. When you visit a website that makes money by showing you advertising, that little pixel cookie screams, "show me an ad from this specific website that was visited yesterday." What is OTT Advertising? OTT advertising stands for Over-The-Top advertising and refers to how TV commercials are delivered now. In the dark ages of Television, there were three big network channels and a few local TV stations. They carried "linear programming" that was broadcast on a schedule. If you wanted to watch Gunsmoke, you had to be sitting in front of your TV on Sunday night when that show was broadcast. The TV stations made their money by selling ads that we call TV commercials. Then came cable TV with 127 channels of nothing to watch. It was still linear TV but you could "DVR" or record your favorite shows and watch them later. You could also fast-forward through the TV commercials. This did not make advertisers happy. There was a decrease in revenue from ads but part of that was made up by the subscription price of cable. Two things happened. The cable companies got super greedy and kept raising the monthly subscription price to over $200 per month for nothing to watch and the Internet got fast enough to deliver movies and TV shows. "Cord-cutting" became a thing. All of a sudden, the dream of content on demand became real. You could binge watch a whole season of Game of Thrones in one weekend. People could watch programs on their TV but also on a tablet, laptop, desktop computer and on their phone. In terms of marketing, two amazing things happened with content delivered over the Internet. First, you could not fast-forward through TV commercials. Second, you can be tracked. Not only do we know who logged on to watch Game of Thrones, we know your age, gender, level of income, level of education, whether you own your home or rent, where you are, what device you are using to view the content and 1,250 other parameters. We can combine the demographic details with where you physically went this past week and deliver "TV commercials" based on what stores you visited. It keeps me up at night. It is why we are majore proponents of privacy rights. Like doctors who are really working to make everyone well and put themselves out of business, we would like to reverse the tracking and put ourselves out of business. I doubt that will happen. The point is, OTT ads are the sexy, new way to deliver TV commercials. They are not delivered based on programming. They are delivered based on interest indicators. If you did something this week (like visit a car dealer's showroom - not the service area) we can deliver competitor car dealer ads to you hoping to motivate you to visit their showroom. These ads might appear on YouTube+, Hulu, Sling, Amazon Prime or some website. They might be pre-roll ads meaning they appear before the show or they might be during the show at a break. The point is, you see them because you did a Google search for that product or visited a store for that product. Gone are the days where everyone watching the Wheel of Fortune gets a Preparation H ad. Now, you may see an ad for a BMW while I see an ad for chef's knives. We can hyper-target your best prospects. What is Your Marketing Strategy? Like everything else in marketing, it depends on your business and your target market. A lot of our marketing strategy depends on the sales triggers for your specific target customers. This involves understanding why people buy your product or service. Some products are more like impulse buys and other products take a lot of research. My wife is researching gas ranges for the kitchen we want to remodel. This is more of a research project than I ever imagined. Days of research are going into this purchase. This means the marketing strategy for a gas range can involve more ads over time than if this were an impulse buy. Another major component of our marketing strategy is to look for signals that indicate a purchase is imminent. For example, people who walk into a car dealership either work there or are interested in buying a car. We can geofence the sales area of every car dealership in an area and exclude the service area. That eliminates most of the people who visit the dealership just for service. Now, we have people who visited the dealership and most of those people are there looking to buy. Some may have bought. We try to eliminate those. We can cross reference hits to their credit score and eliminate those who got that far. The rest are people looking for a car. We want ads for cars and car dealerships in front of those people. A famous example is Burger King. Burger King used Geofencing to send a coupon to the phones of people who were within 600 feet of a McDonald's. The coupon offered a Whopper for 1 cent. Burger King stole a significant number of customers from McDonald's and the campaign was hailed as one of the best marketing moves in history. Uber used Geofencing to send notices to phones showing up at the LAX airport. The notice said, "Would you like us to pick you up at the LAX airport? We have three cars close by." One click and the person was on the Uber app making arrangements. A marketing strategy must be tailored to the specific business. One size does not fit all. That is why your marketing team must be brilliant. My marketing team is the best there is. The last page in this site is the Privacy Policy. It says, Arizona Filmworks.com and AZF Digital Marketing.com Privacy Policy and Terms of Use Last updated June 12, 2021 Information Collection, Use, and Sharing INTRODUCTION Arizona Filmworks and it's DBA, AZF Digital Marketing ("we" or "us" or "our") respects the privacy of our users ("user" or "you"). This Privacy Policy explains how we collect, use, disclose, and safeguard your information when you visit our websites arizonafilmworks.com and azfdigitalmarketing.com and azfwebdesign.com, including any other media form, media channel, mobile website, or mobile application related or connected thereto (collectively, the "Site"). Please read this privacy policy carefully. If you do not agree with the terms of this privacy policy, please do not access the site. We reserve the right to make changes to this Privacy Policy at any time and for any reason. We will alert you about any changes by updating the "Last Updated" date of this Privacy Policy. Any changes or modifications will be effective immediately upon posting the updated Privacy Policy on the Site, and you waive the right to receive specific notice of each such change or modification. You are encouraged to periodically review this Privacy Policy to stay informed of updates. You will be deemed to have been made aware of, will be subject to, and will be deemed to have accepted the changes in any revised Privacy Policy by your continued use of the Site after the date such revised Privacy Policy is posted. COLLECTION OF YOUR INFORMATION We may collect information about you in a variety of ways. The information we may collect on the Site includes: Personal Data Personally identifiable information, such as your name, shipping address, email address, and telephone number, and demographic information, such as your age, gender, hometown, and interests, that you voluntarily give to us when you choose to participate in various activities related to the Site, such as filling out our form to receive a quote. You are under no obligation to provide us with personal information of any kind, however your refusal to do so may prevent you from using certain features of the Site. Derivative Data Information our servers automatically collect when you access the Site, such as your IP address, your browser type, your operating system, your access times, and the pages you have viewed directly before and after accessing the Site. Financial Data Financial information, such as data related to your payment method (e.g. valid credit card number, card brand, expiration date) that we may collect when you purchase, order, return, exchange, or request information about our services from the Site. We store only very limited, if any, financial information that we collect. Otherwise, all financial information is stored by our payment processor, [Amazon Payments,] [Authorize.Net,] [Braintree Payments,] [Chargify,] [Dwolla,] [Google Checkout,] [Paypal,] [SafeCharge,] [Stripe,] [WePay,] [2Checkout,] [other], and you are encouraged to review their privacy policy and contact them directly for responses to your questions. Facebook Permissions The Site [and our mobile application] may by default access your Facebook basic account information, including your name, email, gender, birthday, current city, and profile picture URL, as well as other information that you choose to make public. We may also request access to other permissions related to your account, such as friends, checkins, and likes, and you may choose to grant or deny us access to each individual permission. For more information regarding Facebook permissions, refer to the Facebook Permissions Reference page. Data From Social Networks User information from social networking sites, such as [Apple's Game Center, Facebook, Google+, Instagram, Pinterest, Twitter], including your name, your social network username, location, gender, birth date, email address, profile picture, and public data for contacts, if you connect your account to such social networks. Mobile Device Data Device information, such as your mobile device ID, model, and manufacturer, and information about the location of your device, if you access the Site from a mobile device. Third-Party Data Information from third parties, such as personal information or network friends, if you connect your account to the third party and grant the Site permission to access this information. Data From Contests, Giveaways, and Surveys Personal and other information you may provide when entering contests or giveaways and/or responding to surveys. USE OF YOUR INFORMATION Having accurate information about you permits us to provide you with a smooth, efficient, and customized experience. Specifically, we may use information collected about you via the Site to:
Administer sweepstakes, promotions, and contests.
Assist law enforcement and respond to subpoena.
Compile anonymous statistical data and analysis for use internally or with third parties.
Create and manage your account.
Deliver targeted advertising, coupons, newsletters, and other information regarding promotions and the Site to you.
Email you regarding your account or order.
Enable user-to-user communications.
Fulfill and manage purchases, orders, payments, and other transactions related to the Site.
Generate a personal profile about you to make future visits to the Site more personalized.
Increase the efficiency and operation of the Site.
Monitor and analyze usage and trends to improve your experience with the Site.
Notify you of updates to the Site.
Offer new products, services, and/or recommendations to you.
Perform other business activities as needed.
Prevent fraudulent transactions, monitor against theft, and protect against criminal activity.
Process payments and refunds.
Request feedback and contact you about your use of the Site.
Resolve disputes and troubleshoot problems.
Respond to product and customer service requests.
Send you a newsletter.
Solicit support for the Site.
DISCLOSURE OF YOUR INFORMATION We may share information we have collected about you in certain situations. Your information may be disclosed as follows: By Law or to Protect Rights If we believe the release of information about you is necessary to respond to legal process, to investigate or remedy potential violations of our policies, or to protect the rights, property, and safety of others, we may share your information as permitted or required by any applicable law, rule, or regulation. This includes exchanging information with other entities for fraud protection and credit risk reduction. Third-Party Service Providers We may share your information with third parties that perform services for us or on our behalf, including payment processing, data analysis, email delivery, hosting services, customer service, and marketing assistance. Marketing Communications With your consent, or with an opportunity for you to withdraw consent, we may share your information with third parties for marketing purposes, as permitted by law. Interactions with Other Users If you interact with other users of the Site, those users may see your name, profile photo, and descriptions of your activity, including sending invitations to other users, chatting with other users, liking posts, following blogs. Online Postings When you post comments, contributions or other content to the Site, your posts may be viewed by all users and may be publicly distributed outside the Site in perpetuity. Third-Party Advertisers We may use third-party advertising companies to serve ads when you visit the Site. These companies may use information about your visits to the Site and other websites that are contained in web cookies in order to provide advertisements about goods and services of interest to you. Affiliates We may share your information with our affiliates, in which case we will require those affiliates to honor this Privacy Policy. Affiliates include our parent company and any subsidiaries, joint venture partners or other companies that we control or that are under common control with us. Business Partners We may share your information with our business partners to offer you certain products, services or promotions. Offer Wall Our mobile application may display a third-party hosted "offer wall." Such an offer wall allows third-party advertisers to offer virtual currency, gifts, or other items to users in return for acceptance and completion of an advertisement offer. Such an offer wall may appear in our mobile application and be displayed to you based on certain data, such as your geographic area or demographic information. When you click on an offer wall, you will leave our mobile application. A unique identifier, such as your user ID, will be shared with the offer wall provider in order to prevent fraud and properly credit your account. Social Media Contacts If you connect to the Site [or our mobile application] through a social network, your contacts on the social network will see your name, profile photo, and descriptions of your activity. Other Third Parties We may share your information with advertisers and investors for the purpose of conducting general business analysis. We may also share your information with such third parties for marketing purposes, as permitted by law. Sale or Bankruptcy If we reorganize or sell all or a portion of our assets, undergo a merger, or are acquired by another entity, we may transfer your information to the successor entity. If we go out of business or enter bankruptcy, your information would be an asset transferred or acquired by a third party. You acknowledge that such transfers may occur and that the transferee may decline honor commitments we made in this Privacy Policy. We are not responsible for the actions of third parties with whom you share personal or sensitive data, and we have no authority to manage or control third-party solicitations. If you no longer wish to receive correspondence, emails or other communications from third parties, you are responsible for contacting the third party directly. TRACKING TECHNOLOGIES Cookies and Web Beacons We may use cookies, web beacons, tracking pixels, and other tracking technologies on the Site to help customize the Site and improve your experience. When you access the Site, your personal information is not collected through the use of tracking technology. Most browsers are set to accept cookies by default. You can remove or reject cookies, but be aware that such action could affect the availability and functionality of the Site. You may not decline web beacons. However, they can be rendered ineffective by declining all cookies or by modifying your web browser's settings to notify you each time a cookie is tendered, permitting you to accept or decline cookies on an individual basis. We may use cookies, web beacons, tracking pixels, and other tracking technologies on the Site to help customize the Site and improve your experience. For more information on how we use cookies, please refer to our Cookie Policy posted on the Site, which is incorporated into this Privacy Policy. By using the Site, you agree to be bound by our Cookie Policy. Internet-Based Advertising Additionally, we may use third-party software to serve ads on the Site [and our mobile application], implement email marketing campaigns, and manage other interactive marketing initiatives. This third-party software may use cookies or similar tracking technology to help manage and optimize your online experience with us. For more information about opting-out of interest-based ads, visit the Network Advertising Initiative Opt-Out Tool or Digital Advertising Alliance Opt-Out Tool. Website Analytics We may also partner with selected third-party vendors[, such as [Adobe Analytics,] [Clicktale,] [Clicky,] [Cloudfare,] [Crazy Egg,] [Flurry Analytics,] [Google Analytics,] [Heap Analytics,] [Inspectlet,] [Kissmetrics,] [Mixpanel,] [Piwik,] and others], to allow tracking technologies and remarketing services on the Site through the use of first party cookies and third-party cookies, to, among other things, analyze and track users' use of the Site, determine the popularity of certain content and better understand online activity. By accessing the Site, you consent to the collection and use of your information by these third-party vendors. You are encouraged to review their privacy policy and contact them directly for responses to your questions. We do not transfer personal information to these third-party vendors. However, if you do not want any information to be collected and used by tracking technologies, you can visit the third-party vendor or the Network Advertising Initiative Opt-Out Tool or Digital Advertising Alliance Opt-Out Tool. You should be aware that getting a new computer, installing a new browser, upgrading an existing browser, or erasing or otherwise altering your browser's cookies files may also clear certain opt-out cookies, plug-ins, or settings. THIRD-PARTY WEBSITES The Site may contain links to third-party websites and applications of interest, including advertisements and external services, that are not affiliated with us. Once you have used these links to leave the Site, any information you provide to these third parties is not covered by this Privacy Policy, and we cannot guarantee the safety and privacy of your information. Before visiting and providing any information to any third-party websites, you should inform yourself of the privacy policies and practices (if any) of the third party responsible for that website, and should take those steps necessary to, in your discretion, protect the privacy of your information. We are not responsible for the content or privacy and security practices and policies of any third parties, including other sites, services or applications that may be linked to or from the Site. SECURITY OF YOUR INFORMATION We use administrative, technical, and physical security measures to help protect your personal information. While we have taken reasonable steps to secure the personal information you provide to us, please be aware that despite our efforts, no security measures are perfect or impenetrable, and no method of data transmission can be guaranteed against any interception or other type of misuse. Any information disclosed online is vulnerable to interception and misuse by unauthorized parties. Therefore, we cannot guarantee complete security if you provide personal information. POLICY FOR CHILDREN We do not knowingly solicit information from or market to children under the age of 13. If you become aware of any data we have collected from children under age 13, please contact us using the contact information provided below. CONTROLS FOR DO-NOT-TRACK FEATURES Most web browsers and some mobile operating systems include a Do-Not-Track ("DNT") feature or setting you can activate to signal your privacy preference not to have data about your online browsing activities monitored and collected. No uniform technology standard for recognizing and implementing DNT signals has been finalized. As such, we do not currently respond to DNT browser signals or any other mechanism that automatically communicates your choice not to be tracked online. If a standard for online tracking is adopted that we must follow in the future, we will inform you about that practice in a revised version of this Privacy Policy. Most web browsers and some mobile operating systems include a Do-Not-Track ("DNT") feature or setting you can activate to signal your privacy preference not to have data about your online browsing activities monitored and collected. If you set the DNT signal on your browser, we will respond to such DNT browser signals. OPTIONS REGARDING YOUR INFORMATION You may at any time review or change the information in your account or terminate your account by:
Logging into your account settings and updating your account
Contacting us using the contact information provided below
Upon your request to terminate your account, we will deactivate or delete your account and information from our active databases. However, some information may be retained in our files to prevent fraud, troubleshoot problems, assist with any investigations, enforce our Terms of Use and/or comply with legal requirements. Emails and Communications If you no longer wish to receive correspondence, emails, or other communications from us, you may opt-out by:
Noting your preferences at the time you register your account with the Site.
Logging into your account settings and updating your preferences.
Contacting us using the contact information provided below.
If you no longer wish to receive correspondence, emails, or other communications from third parties, you are responsible for contacting the third party directly. CALIFORNIA PRIVACY RIGHTS California Civil Code Section 1798.83, also known as the "Shine The Light" law, permits our users who are California residents to request and obtain from us, once a year and free of charge, information about categories of personal information (if any) we disclosed to third parties for direct marketing purposes and the names and addresses of all third parties with which we shared personal information in the immediately preceding calendar year. If you are a California resident and would like to make such a request, please submit your request in writing to us using the contact information provided below. If you are under 18 years of age, reside in California, and have a registered account with the Site, you have the right to request removal of unwanted data that you publicly post on the Site. To request removal of such data, please contact us using the contact information provided below, and include the email address associated with your account and a statement that you reside in California. We will make sure the data is not publicly displayed on the Site, but please be aware that the data may not be completely or comprehensively removed from our systems. CONTACT US If you have questions or comments about this Privacy Policy, please contact us at: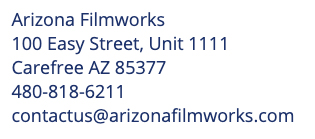 TERMS AND CONDITIONS FOR USE Please read these terms and conditions ("terms", "terms and conditions") carefully before using Arizona Filmworks' website (the "service") operated by Arizona Filmworks, LLC ("us", 'we", "our"). Conditions of Use We will provide services to you, which are subject to the conditions stated below in this document. Every time you visit this website, use its services or make a purchase, you accept the following conditions. This is why we urge you to read these terms and conditions of use carefully. Copyright Content published on this website (digital downloads, images, texts, graphics, logos) is the property of Arizona Filmworks, LLC and/or its content creators and protected by international copyright laws. The entire compilation of the content found on this website is the exclusive property of Arizona Filmworks, LLC, with copyright authorship for this compilation by Arizona Filmworks, LLC. Communications This communication format is electronic. Every time you send us an email or visit our website, you communicate with us. You hereby consent to receive communications from us. You also agree that all notices, disclosures, agreements and other communications we provide to you electronically meet the legal requirements that such communications be in writing. Applicable Law By visiting this website, you agree that the laws of our location, without regard to principles of conflict laws, will govern these terms and conditions, or any dispute of any sort that might come between Arizona Filmworks, LLC and you, or its business partners and associates. Disputes Any dispute related in any way to your visit to this website or to products or services you purchase from us shall be arbitrated by state or federal court of our location (Phoenix, Arizona within the United States of America) and you consent to exclusive jurisdiction and venue of such courts. License and Site Access We grant you a limited license to access and make personal use of this website. You are not allowed to download or modify it. This may be done only with written consent from us.